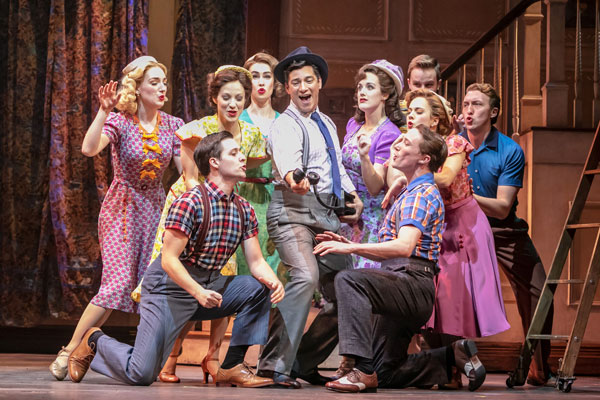 Nicholas Rodriguez (center) and company
Forgive me if I am not playing fair when I say that this absolutely delightful production of "Holiday Inn" has the sparkles even if it is not generating quite the same sparks that made it the best Broadway musical of 2016. Be assured, however, that what is being presented at the Paper Mill Playhouse during this holiday season is still first class entertainment.
It is safe to assume that there is always a little trepidation, some anxiety and perhaps even worry that a stage adaptation of a modest classic film musical will run the risk of being not only patently quaint but also seriously out-of-touch with life as we know it. Put aside your fears as the 1942 film musical "Holiday Inn," with its wondrously melodic score by Irving Berlin, has been beautifully restored/re-envisioned by director Gordon Greenberg and co-writer Chad Hodge. To be sure, there is a quaintness to the basic and barely credible story that has been updated to post World War II. But there are just enough infusions and inferences with a contemporary resonance that will appeal to young audiences who may not be bringing along the nostalgia that will inevitably come with older audience members.
The plot follows the travails of singer Jim (Nicholas Rodriguez) after he has a parting of the ways with dancer Ted (Jeff Kready) his b.f. and professional partner. Jim decides to give up showbiz for a less stressful life buying and maintaining a working farm (really?) So what is a smart but desperate guy to do when the crops fail and the mortgage is due? Of course, he turns to his tapping and chirping Broadway pals for help in transforming the dilapidated homestead into a snazzy retreat with entertainment....but only on the holidays (more really.) Jim gets a little help and more than a little romance from former farm owner and school teacher Linda (Hayley Podschun) whose former aspirations of a career in the theater are suddenly re-kindled.
Sometimes the personable Rodriquez puts his big voice into overdrive when more crooning tones would be more effective. As the sweetly rakish Ted, Kready is terrific and as obliged rips up the stage with his exuberantly stylish dancing to "You're Easy to Dance with" and literally ignites the stage with "Let's Say it with Fireworks." Podschun is sweetly beguiling as Linda and her silvery soprano brings just the right luster to her songs... and she's quite a hoofer.
The best part of this sunny feel-good show is the abundance of tuneful Berlin songs, some of which are not in the original film. "Easter Parade," "Happy Holiday," and "White Christmas" are now joined by "Blue Skies," "Heat Wave," "Shaking the Blues Away," "It's a Lovely Day Today" and more treasures from the Berlin songbook.
With all those great songs, also be prepared for some great and inventive dancing. Choreographer Denis Jones is full of surprises using an assortment props and special effects (they should be surprises) that bring to mind some of the imaginative dance numbers created by filmdom's Busby Berkeley. It won't be long into the show before you are shaking your blues away with a splendid cast that has captured the era, the time and place with the same panache as has set designer Anna Louizos and costume designer Alejo Vietti. . .oh, those Easter bonnets!
Standout among the supporting cast are Ann Harada as the smart-alecky resident handywoman and Paige Faure as Ted's sassy and brassy blonde fiance and dancing partner. But it's director Greenberg and choreographer Jones who have delivered the real goods. "Holiday Inn" comes gift-wrapped for all who cherish the great Berlin tunes and those who treasure the great traditions of the American musical theater.